NEED HELP WITH CHOOSING THE RIGHT ASTA STAIRS?
WANT TO BECOME A DISTRIBUTOR?
CONTACT ME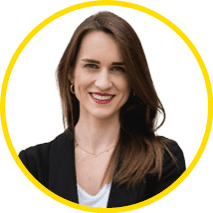 Izabela Bereza-Siwiec
Product Sales manager
ASTA stairs are a practical solution that will be perfect for your home, garage or utility room. Put your trust in a minimalist form and high functionality supported by the simplicity of assembly and access to many product variants that can be adjusted to the conditions and layout of the room.
Loft and austere style, or maybe Scandinavian design? You decide what your space will look like. Arrange it and choose metal stairs without investing in expensive projects. The simplicity of design and assembly means that the entire assembly process can be performed without the qualified specialists.
Customize stairs for free. Choose practical and eye-catching interior accessories.
Ready-made external stairs or metal internal stairs are a kind of communication string connecting different floors with each other. They can be used in homes, industrial buildings, as well as utility rooms, offices, terraces and mezzanines. The products are designed for self-assembly – installation of the system is simple and does not require a specialist.
Steel stairs for sale are available in the following variants:
external stairs,
internal stairs,
quarter-turn stairs,
stairs with a landing,
system stairs without a landing
You can choose from 14 configurations. Additionally, you can decide on your own which type of step filling will be optimal for you:welded grating, profiled grating, non-slip board or laminated timber board.
The sets, apart from steps and railings, also contain all the elements needed for self-assembly, such as: bolts, screws, support elements, steps, and railings – the customer is obliged only to buy the anchors . The entire process can be performed within a few or several hours – it all depends on the number of elements used for this (flights, platforms). The main advantage of metal stairs is that they take up a relatively small space. Thanks to this, it is easier to integrate them into less spacious interiors. Therefore, they will suit wherever the user wants to use as little space as possible for their assembly. Due to the design of the entire structure and material, they are often chosen by fans of a loft and austere style. The steel stairs are additionally galvanized, which significantly extends their service life – they demonstrate a high degree of resistance to changing weather and thermal conditions.
Our customer have used ASTA modular stairs in residential and service buildings.


Choose from 5 types of handrailings, 4 types of steps and 14 configurations of platforms and flights, optimizing the space and matching their design to the interior design. Check the available options and dimensions of modular stairs or call and consult our specialists who will help you choose the right model for the conditions of your room.
What distinguishes our metal stairs, apart from extremely simple assembly, is the possibility of adjusting the height of the steps (smoothly adjustable in the range from 170 mm to 200 mm). Dedicated spring washers prevent the construction from "loosening". Freedom in customizing the stairs, their resistance to weather conditions and attractive design are the most common reasons why customers choose our products.
Are you planning assembly outside or in an outbuilding or garage? Order ready-made stairs with steps made of welded or profiled grating, which protects against uncontrolled slippage.
CUSTOMERS OPINION
WRITE YOUR OPINION
CUSTOMERS OPINION
Grzegorz Lis
05.01.2022 19:28

The stairs arrived on a pallet. It was well protected. I must say that I am impressed with the finish of both the steel and the wood for the steps. As far as I can see the price to quality ratio is excellent. I am glad that I found your company because I had been looking for beautiful industrial stairs at a reasonable price for a very long time. Talking to you was a pleasure and I am glad that "customer service" is in the first place in your company. Thank you once again for your kind and reliable help in choosing the number of steps and handrails.
Bogdan Kulig
Izolkomex s.c. Opole
09.12.2021 o 11:44

Hello.In September 2021, I ordered modular stairs with balustrade from you, which our company assembled as an exit to the mezzanine in the implemented facility in Opole at 10/1 Opole Princes' Street on behalf of the Opole City Council.
I am very satisfied with the professional and fast execution of this transaction. I recommend your company to all potential investors.
Janusz Ziemak
07.12.2021 o 14:10

Thank you very much for your cooperation. The stairs meet all my requirements: they are aesthetic and stable. Implementation at the highest level, everything according to the arrangements and on time. Installation is not a problem at all. Special thanks to Mrs. Aneta Błajek for help at all times. I recommend stairs to everyone 🙂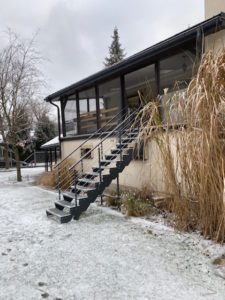 Anvarbek Raupov
02.06.2021

I have ordered ASTA modular stairs year ago and after kids stress testing on it, it still in one piece!! Friendly customer service and speedy delivery. Highly recommended!    

Everything is ok, on time and professionally. Great cooperation.

I bought the stairs in early 2020, mounted them outside with my brother and use them all the time. Strong, solid, hold very well. I recommend it to everyone.
WRITE YOUR OPINION
By choosing ASTA modular stairs, you can adjust the components according to their intended purpose – they will be perfect both as entrance stairs to the house, external stairs, or as terrace stairs in your home leisure section.
ASTA modular metal stairs can be used as:
main stairs,
technical stairs in public utility buildings,
outbuilding stairs,
garage stairs,
basement stairs,
terrace stairs,
loft stairs
Are you looking for an alternative to classic carpentry or reinforced concrete stairs? Choose an easy-to-install and attractive solution, available even in 2 weeks. Our steel stairs designs are characterized by an attractive and competitive price. To learn more about costs, check the available options – download and quote modular stairs. You don't know how to do it? Customize the stairs and match them to the interior with our specialist. Contact him by phone or via the online form at the bottom of the page and ask about the prices of steel stairs.

Modular stairs - customize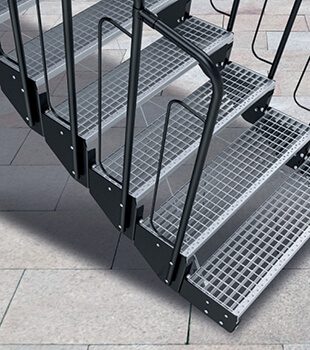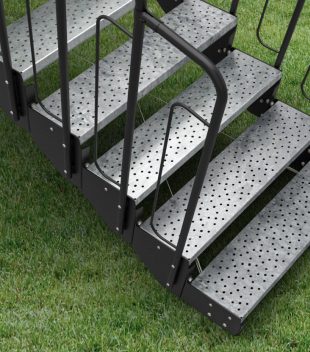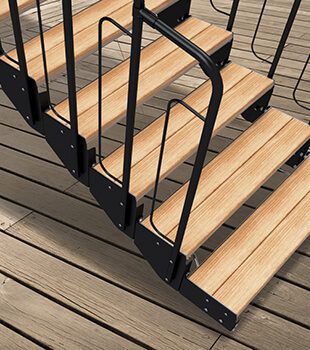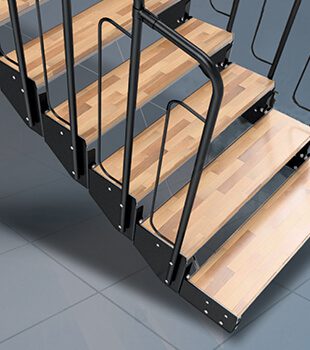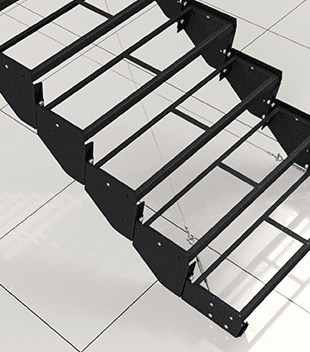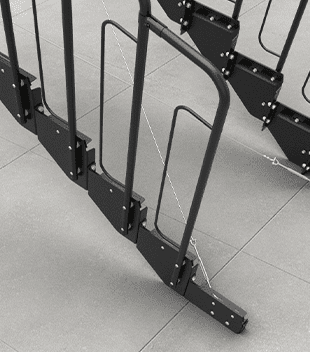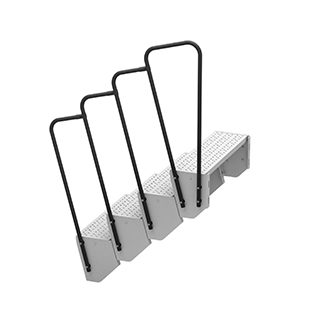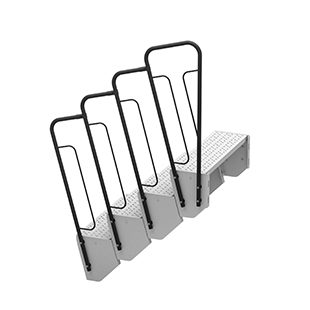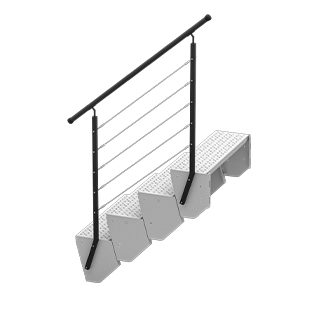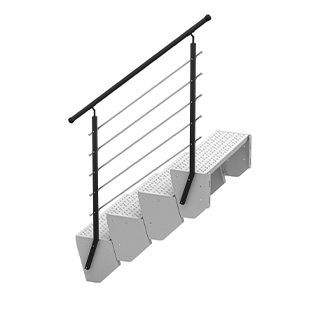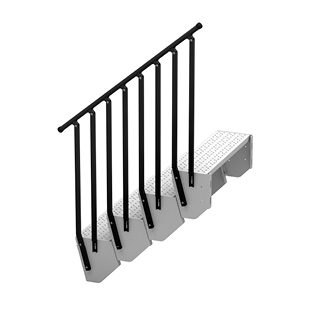 Need help with stairs configuration?
Contact our specialist!
Need help with stairs configuratio?
Contact our specialist!
CHOOSE ASTA MODULAR STAIRS!
Are you looking for an alternative to classic carpentry or reinforced concrete stairs?
Choose an easy-to-install and attractive solution, available even in 2 weeks.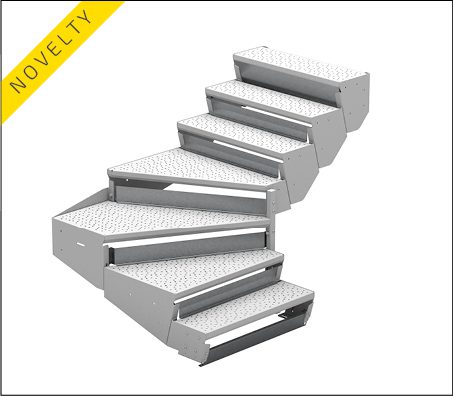 We have extended the offer with an additional riser plate. It covers the space between the steps and gives the asta stairs their unique design and character.
Undoubtedly, the biggest advantage of modular stairs is their simple construction, which can be assembled and installed without the support of a specialist. The steps are connected with short hexagonal bolts. Thanks to the adjustment, you can adjust both the height of the steps and the entire flight of stairs. Start the assembly with twisting the stringers. Screw the next components downwards. Fasten the last, lower step with the screws provided for this purpose, and anchor the higher steps to the wall to give the whole construction stability.
The assembly method depends on the type of stairs – steel stairs with a straight flight are assembled differently than modular stairs or stairs with a platform on poles. Do you want to learn more? Download the assembly instructions.
We know very well how important quality and aesthetics are for our customers. Many years of experience and continuous technological development allow us to create a project adapted to modern trends and user requirements. Ready-made metal stairs are a chance to obtain a unique interior effect. Take advantage of our wide range of available products.
Why should you choose ASTA modular metal stairs?
REINFORCED CONCRETE STAIRS
Reinforced concrete stairs are connected to the building structure, therefore each change of the concept and place requires a similar change in the design and rearrangements with the designer. It is also harder to give them a more advanced shape.
WOODEN STAIRS
Wooden stairs can be made at any stage of finishing the house, but they are much less durable than reinforced concrete or steel ones. It should also be remembered that they require regular maintenance.
ASTA MODULAR STAIRS
Modular stairs are made of steel, protected against corrosion by galvanizing and powder coating, which guarantees durability in all weather conditions, and also allows for many years of use. Prepared elements of the stairs can be assmebled at any stage of construction, as well as used in a different place for a possible later reconstruction.
Contact a distributor who will help you choose ready-made metal stairs tailored to the needs and conditions of the room. Join the group of satisfied customers now and choose the ASTA modular stairs.
* I consent to the processing of my personal data by TLC Sp. z o.o., in accordance with the Personal Data Protection Act for the purposes of submitting the application via the form. I also declare that I provide my personal data voluntarily and I am aware of my right to access and supervise their content, including the possibility of a request for permanent deletion at any time. I accept the provisions of the Privacy Policy
** Add file in pdf, docx, jpg, png format *